Coaches Profiles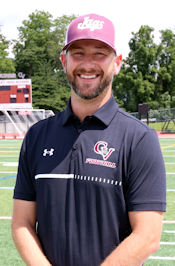 Eric VanWyk - Head Coach
Former Garnet Valley standout quarterback Eric Van Wyk is in his twelveth season as a coach and his second season as Head Coach, after taking over for Mike Ricci. Eric was the Freshman Head Coach for ten years prior to becoming the Varsity Head Coach.
In High School, as a senior, Van Wyk quarterbacked the 2007 Jaguars to the state championship game against Thomas Jefferson. A 2008 alumnus of the school, he went on to pitch for four years at La Salle University and earn All-Big 5 team honors in 2010, as well as an Atlantic-10 Scholar Athlete award.
Van Wyk enjoyed the life lessons that he picked up through the program, as well as the beliefs of selflessness, character and hard work to go along with the positive impact that the coaches have had on his life. He is in his Twelveth year as a seventh grade social studies teacher at Garnet Valley.
Eric is a camp director at the Garnet Valley Sports Camps, a camp with seven different weeks of sports located at Garnet Valley Middle School.
He and his wife, Hilary, have a soon to be two year old named Jude.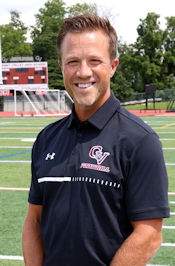 Rich Boyd Jr. - Offensive Coordinator
Rich Boyd has been part of the Garnet Valley coaching staff for the past 17 years and 2022 will mark his 12th as the leader of the vaunted GV offense. Under Boyd's direction, the Jags' offense has been a hallmark for disciplined execution; in addition, several sections of the school record book have been completely rewritten.
From 2016 - 2020, the Jags offense has averaged 39.9 points per game and a whopping 376.6 yards of offense per game. Known for their physical, selfless style, and a relentless rushing attack, Boyd's unique Jag offense has been a thorn in the side of District 1 teams for years.
Boyd was the Chester County Player of the Year and Valor Bowl MVP as a senior at West Chester East in 1998. A 2003 Delaware alumnus and a 2008 graduate of Immaculata, Boyd also has past coaching stops at West Chester East and Downingtown East before arriving at Garnet Valley. Entering his 19th year as a physical education teacher at GV, Boyd recently completed his CSCS and CPT(Certified Strength and Conditioning) certificate through NSCA. He most enjoys the relationships developed and the culture that's been created within the program.
Boyd and his wife, Becca, have three children, Tessa, Leo & Rosalie.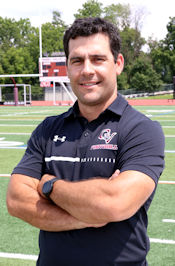 Marc Panepinto - Defensive Coordinator
Marc Panepinto has been a mainstay on the Jaguars' coaching staff for over a decade. In his 13th year on the staff, he works with the Garnet Valley safeties and is also the JV head coach.
A 2003 Boyertown alum, Panepinto was the PAC-10 Player of the Year and a two-time All-Berks County selection. He was an Outstanding Scholar-Athlete at Moravian College, where he graduated in 2007, and served as a co-captain at both schools. He coached for a year at his alma mater as the running backs coach before joining the Jaguars' staff.
A social studies teacher at Garnet Valley for the past nine years, Panepinto cites the brotherhood amongst the players as his favorite part of Garnet Valley football. He lives with his wife, Krystle, and daughter, Elodie (born in the spring of 2021).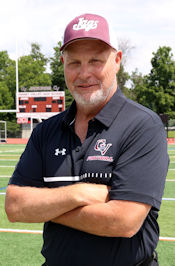 Jeff Hill - Defensive Line
Jeffrey C. Hill joins the Garnet Valley coaching staff for his 7th year in 2022, after spending extensive time on the Glen Mills and Penncrest staffs.
Hill was the defensive line coach for the Battlin' Bulls from 1983 to 1992, as well as 2002. He was the team's special teams coordinator from 1992 to 1995, as well as 2010-2011, and its defensive coordinator from 2003-2008. At Penncrest, he handled the Lions' defensive line in 2000 and 2001.
Hill also brings impeccable powerlifting credentials to the staff. He was the head powerlifting coach at Glen Mills from 1982 to 2003, where he helped turn the Battlin' Bulls into a national powerlifting powerhouse that won an unprecedented 13 National Powerlifting Championships. He earned the USAPL Powerlifting National Coach of the Year award an incredible nine times.
A 1977 Dover High graduate and a 1981 Salisbury State College alumnus, Hill enjoys the opportunity to help young men become better young men. He has been a Program Development Coordinator at the Glen Mills Schools for the past 35 years.
Hill and his wife, Jane, have two sons, Ross and Luke, and a grandson, Roku, who is now 3 years old.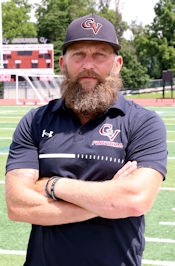 John Paul Battiste - Strength & Conditioning / Running Backs
For more than a decade (since 2007), Jon-Paul Battiste has been an invaluable member of the Garnet Valley football coaching staff. He is the brains behind the Jaguars' brawn as he developed, monitored, evaluated and improved the current, widely acclaimed strength and conditioning program. This season 17 players earned membership into their "1,000 Pound Club" (attained by having 3 lifts--bench press/clean, squat and deadlift--total 1,000 or over), while another 7 reached our diamond dog status evaluated by bodyweight and advanced competitive lifting standards.
A 1994 graduate of West Chester East and a 2000 product of West Chester University, Battiste has carved out a reputation for himself as an exceptional Strength and conditioning coach. One of the Philadelphia Eagles former strength coaches called Battiste's a "phenomenal program," and Garnet Valley is annually one of the strongest teams in the area. His favorite aspect of the program is the summer lifting, where he gets the most time to mold the players.
A man of few words, Battiste commands attention when he does speak. He was a 2014 Crossfit Regional Athlete. He has been a special education teacher for the past 20 years. Coach Battiste and his wife Caitlin have two son's, Ashton and Finnegan.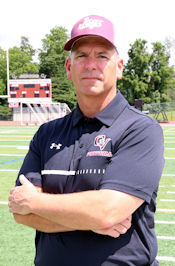 Dave Wrezesniewski - Linebackers
Dave Wrzesniewski has been on the Jaguars' coaching staff for the past twelve seasons, where he's worked extensively with the teams' inside linebacker group for the past 7 seasons.
Wrzesniewski played inside linebacker/fullback at Strath Haven, where he graduated from in 1990. He graduated from Duquesne University in 1995 with a Bachelor of Science in Pharmacy, where he played two seasons before injuries halted his career. He also volunteered at the Brandywine Youth Club as a coach, board member and football committee member for twelve years.
Wrzesniewski takes full advantage of the opportunity to give everything he has to make Garnet Valley's players successful on the field, but even more importantly, in life. He enjoys sharing his perspective, mentoring, developing leadership, and watching our young men grow and mature.
His day job is as the Manager of Regional Pharmacy Operations for Giant Food Stores in Southeastern PA, where he's worked for since 1995, Wrzesniewski and his wife, Polly, have two children, Grace (PSU, 2022) and Will (GVHS, 2022).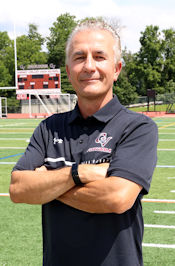 Lance Panarello - Defensive Backs
Lance Panarello has been a mainstay on the Garnet Valley football coaching staff for more than two decades. He enters his 27th season on the Jaguars' staff, where he works with the team's defensive backs unit.
A 1990 Garnet Valley alumnus, he won the Garnet Valley Football Coaches Award, his most proud achievement. He also serves as the BYC football safety coordinator and coaching coordinator. Coach Panarello has coached at BYC since 2006. He earned the Marcus Hook Oldtimers community service award in 2014.
Panarello has a gift to relate lessons learned through football to the lessons that players will need to be successful in their lives. Players routinely come to him for advice and guidance. Coach Pep is so fortunate to be coaching his two sons and all their friends he has had since they we little.
He operates Dental Health Care Associates, Delaware County's first green office. He and his wife, Jama, have two children, Roman (GVHS class of 2024) and Wyatt (GVHS class of 2026).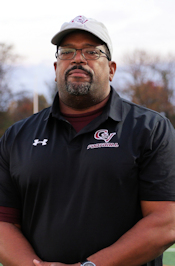 Julius Flynn - Defensive Backs
Julius Flynn has coached at Garnet Valley for more than 15 years. A 1986 alumnus of the school, he has helped the Jaguars produce several top-flight defensive backs and lockdown pass defenses. His players are known for their footwork, their intelligent play--and for their ability to hang on to the 80 mile per hour bullets he throws!
Flynn has also coached at Brandywine High before returning to his alma mater. He was the first player in Cheyney history to earn first-team All-PSAC in all four seasons. A Cheyney Hall of Famer, he was the school's Athlete of the Year and an All-American nominee in 1989. He also collected a host of East Coast Athletic Conference awards.
Flynn serves as an educator at the James T. Vaughn Correctional Institute. He and his wife, Lisa, have two children, Dominque and Skylar.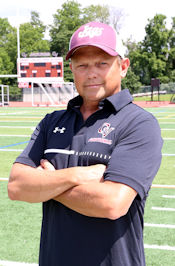 Greg Mink - Slot Backs/Kickers / Technology
Greg Mink is in his 21st season on the coaching staff at his alma mater. He works with the kickers and wide receivers, and oversees all of the technology components within the program. Greg is also now in his 3rd year in the broadcast booth now doing play-by-play for our video streams alongside his new broadcast partner Dennis Becker. As a coach during the week and an announcer on game nights Mink should be able to provide a uniquely interesting perspective on Friday nights.
Mink graduated from Garnet Valley in 1988 and from Shippensburg University in 1992, where he excelled as a kicker. He brings a wealth of experience and expertise to the Jaguars' kicking g ame and a historical perspective of the program that the players love him to share. He also loves the program's family atmosphere.
Senior Technology Engineer with IBC for 14+ years, Mink and his wife, Carrie (GV '89 Alum), have three children: Makenna (Penn State class of 2022), Cullen (Penn State class of 2025 and GV Football alum) and Merrin (GVHS class of 2025).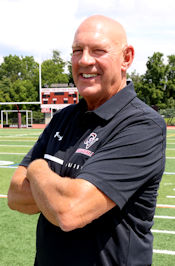 Rick Stroup - Offensive Line
This is Coach Stroup's 6th season back at Garnet Valley after spending 6 seasons as Penncrest's head coach. He previously served as an assistant coach at Garnet Valley from 2000-2010. During that span, Stroup's role as the Jags defensive coordinator was integral to their multiple District Championships, Central League Championships and state title game run.
Stroup broke into coaching in 1978 at Kutztown University and never looked back. Since then he has been a head coach at Sun Valley, Oxford, and Penncrest High Schools, as well as an assistant coach at West Chester University, Cheyney University and Swarthmore College. Stroup graduated from Kutztown in 1977, and during his career was an all PSAC linebacker, and Cocaptain his senior year. A 1973 product of Lehighton High School, he garnered All Lehigh Valley League honors as a tight end and defensive end, and was inducted into into the Carbon County Athletic Hall of Fame in 2018. Stroup enjoys working with all of the young men and their families, as well as all of the coaches. Stroup currently works at GVHS as a paraprofessional in the school's special education department, and also coaches the 8th grade girls middle school basketball team. Stroup and his wife Vanessa have 4 children: Jason, Jon, Kara and Kate. They also have 6 grandchildren Nora, Lucy, Milo, and Owen, children of Jason and his wife Amanda, and Adeline and Austen, children of Jon and his wife, Jenna.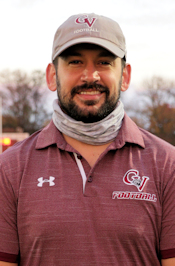 Mike Frawley - Wide Recievers Coach
Mike Frawley has been on the Garnet Valley football staff for 7 years. He works with the team's wide receivers.
A 2006 Garnet Valley alumnus, Frawley earned first-team All-Delco and All-Central League honors as a senior. He was also tabbed the Chester County Two-Way Player of the Year, Hero Bowl MVP, Garnet Valley Scholar Athlete Award winner and Garnet Valley Scout Team Award winner. He played at the College of the Holy Cross, where he was a part of the 2009 Patriot League champions.
Frawley, who cites the players as his favorite part of Garnet Valley football, works at KPMG as a consultant. He lives with his wife, Casey, and son, Foster, who turned 2 this past July.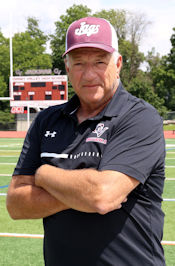 Craig Stephenson - Linebackers
Craig D. Stephenson begins his eighth season on the Garnet Valley football coaching staff this season. 2011-2013 and 2017 to the present.
Stephenson brings plenty of coaching experience to the staff with 27 years at John Dickinson (Del.), including 17 as the head football coach and earning a spot in the school's Hall of Fame. He also spent three years on the Sun Valley High staff, working with running backs and linebackers.
Stephenson was a first-team junior college All-American at Wesley Junior College, where he was inducted into the school's Athletic Hall of Fame in 2009. A first-team All-Blue Hen Conference running back at John Dickinson High School (DE), he also matriculated at Duke University, where he was selected to play in the 1974 Blue and Gray Football Classic.
Stephenson proclaims to, above all else, enjoy the experience of Garnet Valley football, from the coaches, players, managers, school staff, students and parents. A proud Vietnam War veteran, Stephenson earned a Bachelor of Science from West Chester University in 1990. He and his wife, Susan, have a daughter, Leslie and her husband Marco.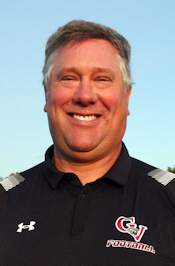 Patt Evans - Offensive Line
Patt enters his 24th season as a volunteer assistant OL coach. He started his career at his alma mater, Strath Haven--while he was there they won 2 PA State Championships. He then came to Garnet Valley and was there for 10 years, where he went back to the Hershey with the team in 2007. He then moved to St Joe's Prep with his eldest son, Jackson (Lehigh University Football 2020), where they won the state Championship three out of four years. After his tenure at St. Joe's Prep he rejoined GV as an assistant with the 8th grade team, following his son Bear (class of 2022) through the program. Patt and his wife, Michelle, have resided in the Garnet Valley for 24 years; during that time, they have been active volunteers for the Jags within the lacrosse and football communities. Their daughter, Peyton is a product of the GVSD and is now in her sophomore year at Ursinus and a member of the cheer squad for their football team. In his time as a player, Patt was All Delco at 3 different positions for three years at Strath Haven before moving on to the University of Minnesota where he was All Big Ten and a captain of his team. He was a member of the practice squad for the Dallas Cowboys when they won the Super Bowl in 1993, but he doesn't like to tell his dad, Mike, who was the starting center for the Philadelphia Eagles from 1968-1973. The only member of the family who can handle such news is their loyal dog, Buckley.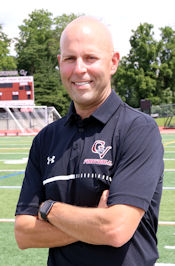 Brian Perlsweig - Tight Ends
Perslweig started his coaching career with the Our Lady of Fatima CYO program, from 1998-2001. In 2002, he started teaching special education and helping with the football program at GVHS. Perslweig worked with the Jag football team through the 2010 season; following that season, he spent 4 years working with Coach Stroup at Penncrest High School. In 2016, he regained his senses and returned to coaching at GV. He spent a year with the freshman program and coached the middle school lightweight team from 2017 - 2019. He returned to coach at the high school level in 2020, when he assumed responsibility for the teams' tight ends.
Perlsweig graduated from Cardinal O'Hara and West Chester University and says that he most enjoys watching the development of the players and the lifelong relationships that carry on well after they graduate from GV. This year, he is beginning his 20th year as a Special Education teacher at the high school. Perlsweig lives in GV with wife Deb, and their daughter, Abby (3rd grade/9 years old).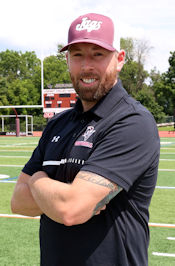 Casey Simpkins - Defensive Line
Casey Simpkins enters his third year as a member of the Garnet Valley football staff, a nd his second as the head coach of the GV Freshman football program.
Prior to Garnet Valley, Coach Simpkins spent two seasons as a Freshman football assistant at Strath Haven and three developing the offensive and defensive lines at Sun Valley, along with serving as the program's Freshman head coach for one season.
Coach Simpkins is a 2009 graduate of Interboro High School, where he received all-league honors, the program's scholar athlete award, and was a 2009 Hero Bowl participant. He is a 2013 graduate of West Chester University and 2019 graduate of Wilkes University, and has also coached baseball and softball at his previous stops.
In addition to coaching, Coach Simpkins teaches English at Garnet Valley High School. He and his wife, Briana, have a one year old son named Ace and are expecting a baby girl in November.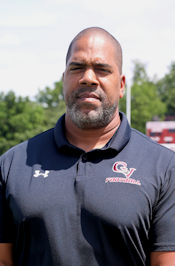 Jon Flynn - Quarterbacks
Jonathan Flynn is entering his 2nd year as a part of the GVHS coaching staff, after previously coaching at Brandywine High School, in Wilmington, DE. A 1992 of Garnet Valley, Flynn played quarterback, safety and punter--and was the team's Scholar/Athlete Award winner in 1991. In 1996, he graduated from Cheyney University, where he excelled both on and off of the field. A three-time captain, Flynn was the team's QB and punter--and was also his class's valedictorian. Flynn is also a mentor, Advisor to the Trauma Informed Education Coalition and a committee member for the Media Fellowship House.
Flynn loves the life lessons from Garnet Valley football both as a player and now as a coach, and is inspired by the hard work and dedication present at all levels of the program. Flynn is married to his wife, Jen.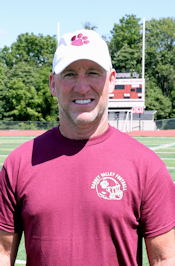 George White - Slot
Coach White enters his 6th season with the GV Football coaching staff. During his tenure, he's worked with the running backs and wide receivers. Coach White came to the GV Football staff after coaching softball for 24 years. He's coached at the Tournament, High School, and College levels. From 2015 to 2018, White was the Garnet Valley Softball Head Coach. In 2018, White was hired at Neumann University as an assistant coach. In 2020, he was promoted to head coach.
A Facilities Manager at Lockheed Martin in King of Prussia for the past 17 years, White and his wife Tina have two children, Lindsay and Allie.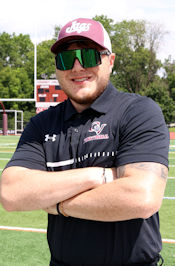 Joe Thomas - Defensive Line
Joe Thomas starts his first year coaching with the Garnet Valley Football coaching staff entering the 2022 season. Thomas is an alumni for Garnet Valley, graduating in 2017. He played defensive tackle during his tenure and was captain his senior year that helped the 2017 Jaguars go to its first District 1 6A final appearance. After graduating Garnet Valley, he went on to play at East Stroudsburg University.
Thomas has been in the GV community and the football program his whole life with his dad graduating from Garnet Valley and also having older siblings go through the program. He always wanted to give back to the community and is also currently helping coach the BYC Bulldogs youth football team.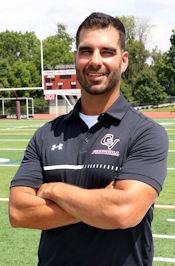 Chris Quintans - Safeties
Chris Quintans joins the Garnet Valley football staff following stints as a coach at Sun Valley and Penncrest. After two seasons coaching freshman football at Penncrest, Coach Quintans spent the past six seasons serving Sun Valley as the special teams coordinator and defensive coordinator.
Coach Quintans is a 2009 graduate of Penncrest High School, where he received All-Delco honors, was the recipient of the Phil Marion Most Courageous Athlete in Delaware County Award, and was a 2009 Hero Bowl participant. He is a 2013 graduate of Bloomsburg University and 2018 graduate of La Salle University. He has also been Sun Valley's head baseball coach from 2019-2021.
Quintans is a math teacher who enjoys teaching his students and athletes how to find success through working hard, building healthy relationships, and serving others. The culture of "oneness" is his favorite part of Garnet Valley football.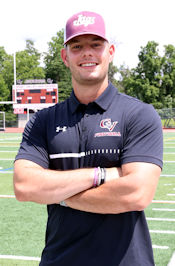 Jon Ricci
A lifelong member of the Garnet Valley football program, Coach Jon Ricci begins his first "official" capacity as a member of the staff in 2023. The son of longtime GV Head Coach Mike Ricci, Jon spent his summers from the age of 3 through 18 with the GV program, staying at camp, directing traffic, serving as a water boy and a ball boy, and finally as a tight end on one of GV's most accomplished teams, the 2017 District 1 6A finalists.
Following his tenure at GV, Ricci enrolled at the University of Delaware, where he majored in Criminal Justice and Sociology, earned a Master's Degree in International Business, and earned 4 letters as a tight end.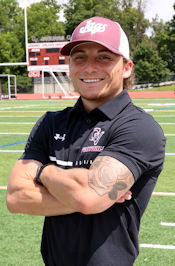 Matt Burba
Bio - Comming Soon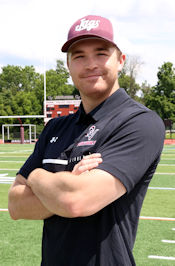 Zach Liggitt
This is Zach Liggitt's first year on the Garnet Valley Coaching Staff. He will be coaching the outside linebackers for our Varsity/JV teams. This is also Zach's first year as a teacher in the Garnet Valley School District, and he will be teaching 6th grade language arts at Garnet Valley Middle school.
Zach Liggitt graduated from Northampton Area High School in 2018. Just this past spring of 2023 Z ach graduated from West Chester University. While attending West Chester University Zach was a two time captain of their football program. He was also selected as a first team all conference player twice while playing for the West Chester Rams. One of Zach's highest priorities has always b een to form lifelong connections with students/players while also preparing them to be fantastic young adults.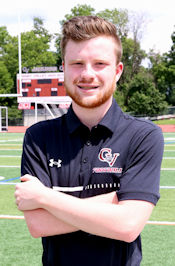 Vinny Long
Bio - Comming Soon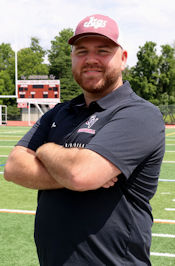 Curtis Ostrowski
Coach O is a 2014 alumni of Garnet Valley High School. After GV, Curtis was accepted into Millersville's integrative studies program. At Millersville, Coach Ostrowski got involved in a men's group where they talked about issues personally and professionally.
After Millersville he got involved with AmeriCorps with that. And most recently, Coach was a camp counselor for kids and adults with different disabilities in Wisconsin. Coach loves Positively impacting the lives of other's and he can't wait to help these young men in more than just football.